BPA free silicone
Personalised Bottle Bands
Regular price

Sale price

$9.00
Introducing our Personalised Bottle Bands - the ultimate solution to lost property and faded labels! Say goodbye to the hassle of trying to identify your child's water bottles and cups amongst the others, and hello to a smart and stylish solution.
Fits Air Up Bottle!
⚡ BUNDLE & SAVE ⚡ Purchase any 3 bands and get 10% off your order + FREE UK Shipping! - Automatically Applied at Checkout.
---
⚡ Get More Save More
Buy 3+
Get 10% Off + FREE UK Shipping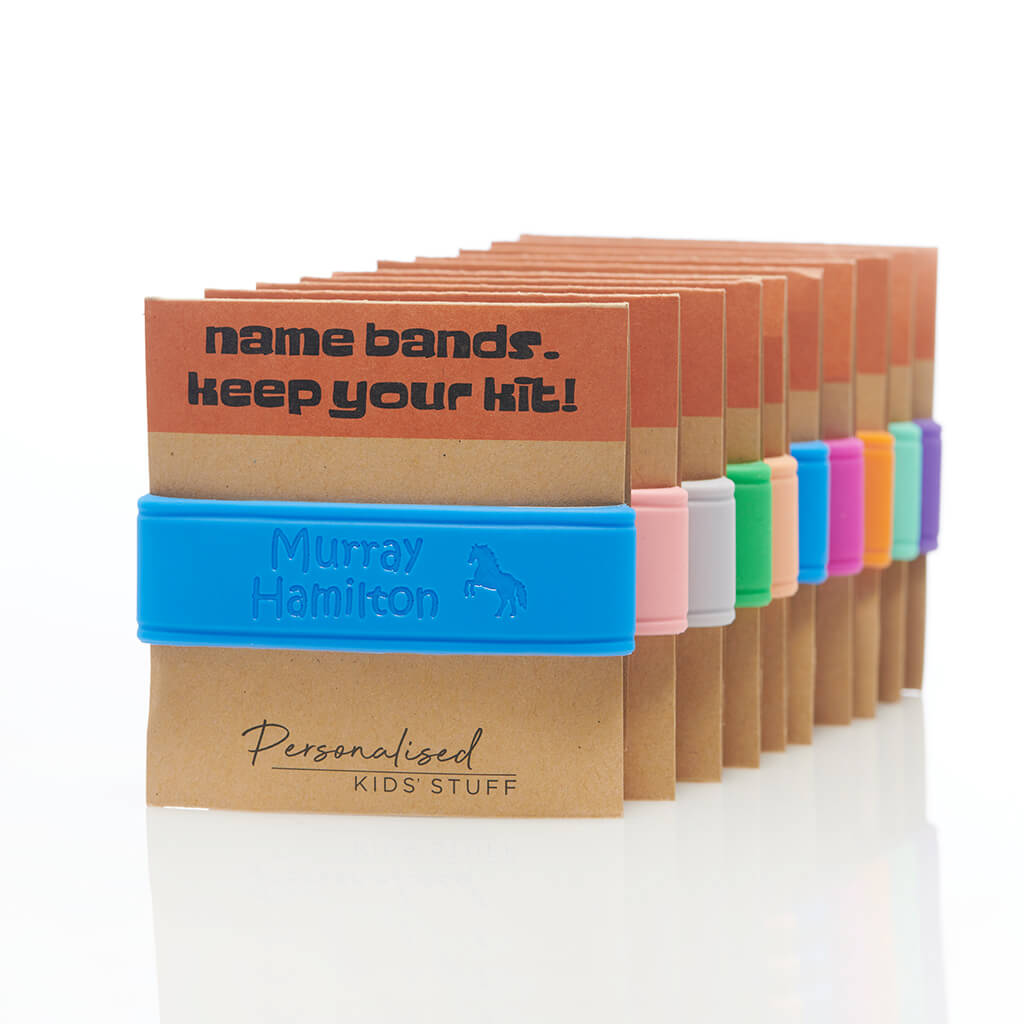 ✅ Free UK Shipping on orders over £15
✅ Typically delivers within 3-5 working days, by Royal Mail after processing.
Key features:
• Personalised With Your Name
• BPA free + Phthalate free
• 100% Silicone
• Dishwasher Safe
• Planet Friendly
Bottle Band Details
The perfect solution to that naming problem

Adding custom labels to your child's water bottle can help keep track of which one belongs to them. With our personalised silicone bottle bands, it is easy to identify and customise your child's water bottle with a variety of bright colours and fonts. 

Our bottle bands are made from BPA-free, CE certified food grade silicone, so you can trust that they're safe for your child to use. Not only are they safe, but they're also extremely durable - they won't peel off or break like traditional labels do. You have a variety of colours to choose from, Ocean mint, Misty blue, Blossom Pink, Dreamy peach, Berry purple, Flaming fuchsia, Rainforest green, Cool blue, Pebble grey. And four different fonts to personalise with your child's name, making them easy to identify.

Our name labels for water bottles are dishwasher safe, and can be placed on the top shelf, so cleaning them is a breeze.

We understand how important it is to make sure you're happy with your purchase, that's why we provide examples in our 'What to Expect' section so you can see for yourself how your bottle band will look before you buy. Order your Personalised Bottle Bands today and take the first step towards stress-free bottle identification!

Personalised with your choice of lettering and a icon from our selection, pick from four different fonts

Made from BPA-free, CE certified food grade silicone
Available in 8 different vibrant colours
Dishwasher safe - easy to clean and sanitise
Recyclable - used bands can be returned for recycling
Suitable for naming bottles, cups and small containers
Durable and long-lasting - won't peel off or break like traditional labels
Fits onto an Air Up Bottle
Makes the perfect name label for water bottles
Recommended for ages 6 months and up with adult supervision

Please note that the image tool on this page gives you a representation only. For further examples of how your bottle band will look please see our samples in 'What to expect'.

Still unsure, check out our guide on The Best Way to Customise Your Bottle Band.

| | |
| --- | --- |
| Weight | 14g |
| Dimensions | H: 2.5cm W: 2.5mm D: 6.3cm |
| Capacity | NA |
| Care | Dishwasher Safe, Steriliser Safe |
| Material | BPA-free, CE certified food grade silicone |

Looking for a Braille bottle band option? Please send us a message via our chat widget, or email us.
Further Information
Product Information

Name bands make ideal baby bottle labels. Perfect as a present for a birthday or other celebration.

Ideal for school. Name bands help ensure that your child's bottle returns home!

How we personalise

You tell us the name you want marked on the band, together with a motif - if desired - chosen from our selection. You can choose one or two lines of text and up to 18 characters to get the band perfectly personalised for your child, we have four different fonts to choose from.

Why not buy these for your child's school or pre-school water bottle, or to make their bottle easy to spot at sports clubs or swimming? These are the perfect school bottle name bands!

Please note that the second line of text will be smaller if two lines are chosen, and the more characters you choose, the smaller the lettering will be.

Encourages early literacy

Younger children will benefit from looking at their own name on name bands - helping them to recognise those letters that belong to them, encouraging early literacy.

Avoid those unnecessary toxins

BPA free silicone contains no nasty chemicals - and we know you want your children to avoid toxins as much as possible! The silicone is smooth and flexible and expands to fit most kids' drinking bottles and cups, giving them a comfortable grip as well as a name!

Bands are durable and can eventually be recycled - you can return unwanted bands to us for recycling.

No adhesive is used on the bands - they stretch to fit and stay in place without additional fixative. The bottles or containers are then easily identifiable - so they return home with your child instead of being left in a pile in lost property or at nursery.

Easy to keep clean

Bands are easy for small hands to grip and easy to clean - they are dishwasher safe, smooth with no ridges, making them straightforward to keep pristine and hygienic. They can also be boiled or sterilised. You don't even have to remove them from the bottle - just pop the bottle with its band on into the dishwasher or a bowl of hot, soapy water, however you usually like to wash your child's water bottle.

Minimise the spread of viruses

We all want to avoid nasty germs and viruses - with a Name Band your child's bottle will be clearly labelled and therefore much less likely to get mixed up with similar bottles belonging to other children. This means fewer hands touching your child's bottle which is good news when you want to avoid germs!

Bands come in a selection of calming pastel colours for children who like a more muted and subtle colour, and also a collection of brighter colours for those who like to make a bolder statement.

Pastel and muted shades have been shown to have a calming effect, so if you have an anxious child or a child who tends to get over stimulated then it may be helpful to choose one of our quieter shades. The bands also have a smooth feel which is reassuring and tactile. Simplicity is the key to the design of our bands, not sensory overload!

If, on the other hand, your child likes colours loud and vibrant then we have plenty to choose from for them too!

Name Bands do not fade with washing, so they will not only keep your bottle clearly named, they will also remain smart and sharp looking with everyday use - once your bottle is worn out you can move your Name Band to a new one and it will look just as good or better!

They even double as trendy wrist bands for older children!

Not only do they name items clearly and stylishly but these bands can also be worn by older children on the wrist as super fun and trendy identity bands! For very young children they make ideal baby bottle identification bands.

Looking for a present or just a practical, stylish naming solution?

Bands make perfect presents for friends or family - solve those birthday gift problems by purchasing our bands fully personalised for the birthday king or queen. A unique gift that will be greeted with delight and won't break the bank! They would make an ideal reasonably cheap personalised baby gift or a present for a pre school or school age child. They are a great present for toddlers.
Shipping & Delivery

Free shipping with Royal Mail 48 for all orders over £15. For orders under £15 a shipping charge of £1.50 - £3.49 will apply.

European and worldwide shipping cost is calculated at checkout. Customs charges may be incurred – these are the responsibility of the customer.

Processing and marking time – 5-7 working days.
Shipping times may vary but are estimated to be:
1-3 working days within the UK.
3-5 working days from Europe.
5-7 working days worldwide.
Returns and Refunds

For personalised products - personalisation errors caused by us

We really hope that you don't find any faults or mistakes in the personalisation. We're only human though, and occasionally we make mistakes! If you do find that we've made an error and the personalisation is not how you ordered it, we ask you to take a photo of the item together with the order number. With this information we can take a look and if we have made a mistake we'll hold our hands up and send you a replacement, correctly marked as you originally ordered it.

Personalised products - personalisation mistakes caused by you

If you realise that you've made a mistake with the personalisation after you've sent in your order, it's definitely worth contacting us as soon as you can with the order number. In such a case, if the item hasn't yet been marked we may be able to rectify your mistake, however we cannot offer refunds once marking has taken place or if you receive your item and only then notice your error.

Always double and triple check your personalisation before you submit your order to us to try and avoid this type of problem. It's so easy to type something in wrongly, and it only takes a minute just to check things over and make sure you've got it right, Saves us a lot of trouble too.

For products without personalisation

If you notice a manufacturing fault in one of our non-personalised products, please photograph the item with its order number, and send back to us in its original packaging. We can then have a look at what's wrong and issue you with a refund if we agree that there's a fault. We're sorry but, in any case, we cannot refund postage - but we'll do our very best to ensure that you are happy with your purchase!
The Perfect Personalised Bottle Band
The silicone is strong and durable and of great quality. Love this band, wish I had ordered 2 now and a darker colour. Highly recommend.
Delighted with this, was dubious as i bought it from an ad on Instagram. Really good quality and well finished. Super handy for keeping little girls juice bottle labelled at school
Great product
String and study and great product so we don't lost my daughters water bottle on nursery trips!
Great idea
I ordered for my mum who's in a nursing home as her bottle kept going missing. Had her name and room number put on it and we are very happy with it 😀
Brilliant
My daughter loves it so much and having her dream job on the band keeps as a lovely reminder to keep going towards her goal.
Watch our laser marking process
I Have Questions
Can I have my band marked with emoticons or emojis?

You are able to choose from over 30 icons that we offer.
Can the bands stay on the bottles in the dishwasher or do I need to remove them?

It's absolutely fine to leave the band on the bottle for the dishwasher, our bands are designed to make life easier!
Do the Name bands fit all types of bottle?

Our bands will stretch to fit most kids' bottles and small food containers. We cannot guarantee that the bands will fit every bottle but we are happy to advise if you wish to email us about a particular brand of bottle – hello@personalisedkidsstuff.com
How durable are the PKS Name Bands?

The bands are made from high quality silicone and, while we cannot predict the exact life expectancy, we do know that since its inception in 2019 the product has proved extremely hard wearing and reliable when used as suggested and not over stretched.
How many Bottle Bands do I get with a single order?

You will receive a single coloured band personalised according to your selection during the ordering process.
What are Name Bands made from?

Name Bands are made of high quality BPA free silicone. Please see our product page for further information. You can also find information on silicone in our blog.
What size bottle will the PKS Name Bands fit on to?

The Silicone bands do stretch. We have tested and fitted them on bottles up to 70mm in diameter. With a little effort they will stretch slightly beyond this.