Eco Friendly
Personalised Kid's Water Bottle
Regular price

Sale price

$18.00
A personalised water bottle in super stylish stainless steel, double insulated to keep your child's drink cool - or warm! Easy for little ones - or bigger ones - to hold and drink from, our water bottle has a detachable straw and flip top lid for stress free sipping!
---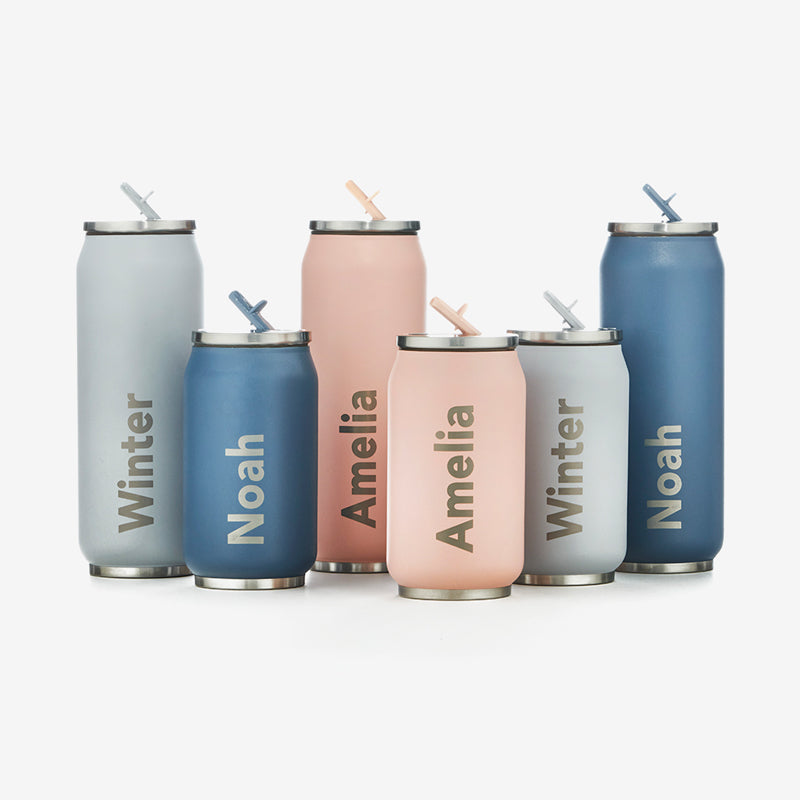 ✅ Free UK Shipping on orders over £15
✅ Typically delivers within 3-5 working days, by Royal Mail after laser processing.
Key features:
• Personalised With Your Name
• BPA free + Phthalate free
• Stainless Steel
• Planet Friendly
Personalised Kid's Water Bottle Details
Product Description

Introducing our Personalised Stainless Steel Kid's Water Bottles - the perfect combination of style and functionality! These customisable bottles are not only eco-friendly but also incredibly durable.


Designed to fit snugly in backpack bottle holders, our personalised water bottles are the ideal size for school or sports bags. With their unique personalisation, they are easy to spot and won't get mixed up with other bottles, ensuring your child stands out from the crowd.

Encourage your child to stay hydrated with their own personalised water bottle, designed exclusively for them. Order now and make hydration fun and stylish for your little one!

Here's what sets our bottles apart:


Personalised with the name of your choice for that special touch
Crafted from eco-friendly stainless steel, ensuring sustainability and longevity
Powder coated for an easy grip, even during the most active moments
Double-wall insulated, keeping your drinks warm for 6-8 hours or cool for 8-12 hours
Equipped with a convenient flip-top lid and a detachable straw for effortless drinking
Easy to clean by hand, making maintenance a breeze

Whether you're looking for a thoughtful gift or a reliable hydration solution for yourself, our Personalised Water Bottles are the perfect choice. Stay hydrated in style while making a positive impact on the environment.

Looking for a replacement lid? Shop our replacement lids.
Further Information
Further Product Information

Looking for an eco friendly stainless steel water bottle personalised for your child?

Our super stylish, planet friendly stainless steel water bottle is sure to be a big hit with the kids!

Double wall insulated, this stainless steel water bottle will keep your kids' drink cool for 8 - 12 hours and warm for 6 - 8 hours. With flip top lid for easy drinking and detachable straw for simple sipping, this personalised water bottle is perfect for any child from toddlers upwards.

Powder coated for a stylish, non slip finish, our laser marked personalisation will cut through the coating to reveal the stainless steel below, making this bottle stunningly eye-catching and extremely durable. No more names that just rub or wash off!

Ideal as a gift for any special occasion, making it a great choice for a kids' birthday present or just an everyday essential for any child!

Extremely easy to clean - we recommend washing by hand - just wash in soapy water and your child's bottle will be ready for repeated use. Just fill it up with your child's drink and off they go!
Shipping & Delivery

Free shipping with Royal Mail 48 for all orders over £15. For orders under £15 a shipping charge of £1.50 - £3.49 will apply.

European and worldwide shipping cost is calculated at checkout. Customs charges may be incurred – these are the responsibility of the customer.

Processing and marking time – 5-7 working days.
Shipping times may vary but are estimated to be:
1-3 working days within the UK.
3-5 working days from Europe.
5-7 working days worldwide.
Returns and Refunds

For personalised products - personalisation errors caused by us

We really hope that you don't find any faults or mistakes in the personalisation. We're only human though, and occasionally we make mistakes! If you do find that we've made an error and the personalisation is not how you ordered it, we ask you to take a photo of the item together with the order number. With this information we can take a look and if we have made a mistake we'll hold our hands up and send you a replacement, correctly marked as you originally ordered it.

Personalised products - personalisation mistakes caused by you

If you realise that you've made a mistake with the personalisation after you've sent in your order, it's definitely worth contacting us as soon as you can with the order number. In such a case, if the item hasn't yet been marked we may be able to rectify your mistake, however we cannot offer refunds once marking has taken place or if you receive your item and only then notice your error.

Always double and triple check your personalisation before you submit your order to us to try and avoid this type of problem. It's so easy to type something in wrongly, and it only takes a minute just to check things over and make sure you've got it right, Saves us a lot of trouble too.

For products without personalisation

If you notice a manufacturing fault in one of our non-personalised products, please photograph the item with its order number, and send back to us in its original packaging. We can then have a look at what's wrong and issue you with a refund if we agree that there's a fault. We're sorry but, in any case, we cannot refund postage - but we'll do our very best to ensure that you are happy with your purchase!
Good product love the colour and my granddaughter is called Elle so difficult to get personalised items
Both straws broke in first week
Both of my boys bottles came home from school broken within the first week of school. When the little handle on the straw breaks, it is too difficult for my kids to lift the straw up. Really expensive bottles to only get a week out of them.
We're genuinely sorry to learn about the issues with both of your kids' bottles. We understand how frustrating this must be.
To address the problem, we'd like to offer you two replacement lids at no cost. However, we'd like to kindly advise being extra cautious with the flip lid, as it's made of hard plastic and may break if dropped.
Your satisfaction is really important to us, and we want to ensure your children can enjoy their bottles without any further inconvenience.
After a week the the outer drinking mouth piece snapped!
Lovely
Value for money . My son is loving it and the quality is good
Watch our laser marking process
I Have Questions
Can I personalise the water bottle with any name or text?

Yes, absolutely! Our personalised stainless steel water bottles can be customised with the name of your choice, making it a unique and special item for your child. Simply provide us with the desired name or text during the ordering process.
How long does the double-wall insulation keep drinks cool or warm?

Our stainless steel water bottles with double-wall insulation can keep drinks cool for 8-12 hours and warm for 6-8 hours. Whether your child prefers refreshing cold drinks or cozy warm beverages, this bottle will maintain the desired temperature for extended periods.
Is the bottle easy for kids of all ages to handle and drink from?

Absolutely! Our water bottle is designed to be easy for little ones as well as older children to hold and drink from. With its user-friendly flip-top lid and detachable straw, it offers stress-free sipping and ensures a hassle-free drinking experience.
Can the personalised name withstand repeated use and cleaning?

Yes, definitely! Our laser-marked personalisation is durable and long-lasting. The name or text is designed to cut through the powder coating, revealing the stainless steel underneath. This ensures that the personalisation remains stunningly eye-catching and won't rub or wash off, even with repeated use and cleaning.

How should I clean the water bottle?

Cleaning the water bottle is a breeze. We recommend washing it by hand with warm soapy water. This ensures that your child's bottle is ready for repeated use. Simply fill it up with your child's favourite drink, and they're good to go on their adventures!