BPA free silicone
Personalised Baby Cutlery
Regular price

$11.00

Sale price

$11.00
The perfect personalised baby spoon and fork set in smooth, stylish silicone for little ones with tender gums and big attitudes! Personalise the set with your child's name or initials in your choice of font, making mealtime special and helping to prevent mix-ups with other children's utensils. The silicone material is also BPA and phthalate-free, ensuring that your child is not exposed to harmful chemicals.
---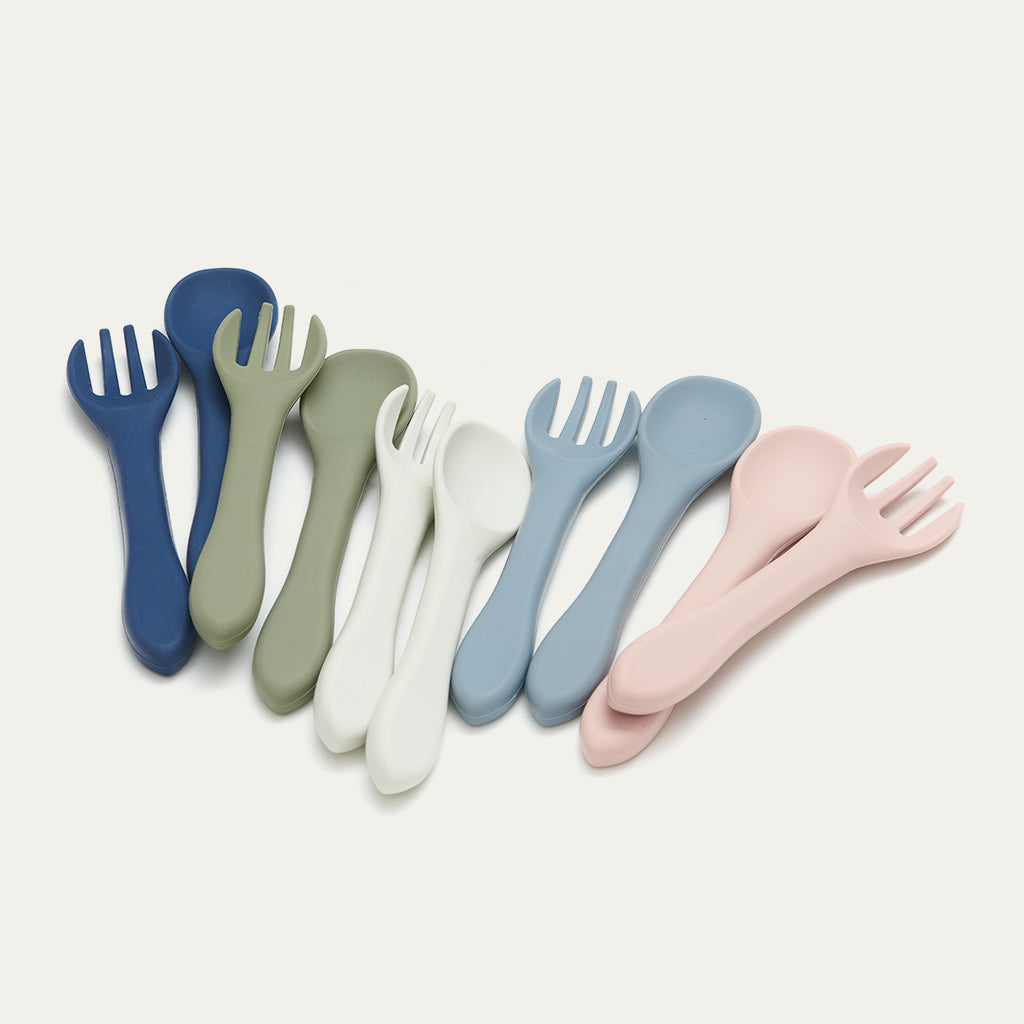 ✅ Free UK Shipping on orders over £15
✅ Typically delivers within 3-5 working days, by Royal Mail after laser processing.
Key features:
• Personalised With Your Name
• BPA free + Phthalate free
• 100% Silicone
• Dishwasher Safe
• Planet Friendly
Personalised Baby Cutlery Details
Product Description

Easy to clean in the dishwasher or by hand, our personalised baby spoon and fork set is an ideal first cutlery set for babies beginning to feed themselves!

Personalised with your choice of lettering and font for a special and unique touch
Made of BPA and phthalate-free silicone, safe for baby and gentle on tender gums

Flexible, smooth silicone is gentle on sore gums

Handles are easy to grip and hold

Easy to clean by hand or in the dishwasher

Microwave safe

Suitable for use from 6 months

, helping to encourage independence at mealtime

Eco-friendly, with recyclable packaging and the option to return for specialist recycling

A great gift for a new baby or 6-month-old

Please remember that babies and children should be supervised at all times when using our cutlery.


| | |
| --- | --- |
| Weight | Fork: 24g Spoon: 28g |
| Dimensions | H: 14cm W: 3cm |
| Capacity | NA |
| Care | Dishwasher Safe, Steriliser Safe |
| Material | BPA-free, CE certified food grade silicone |
Further Information
Further Product Information

Our personalised silicone baby spoon and fork set is ideal for tiny tots from 6 months old who want to feel part of family mealtimes!

Silicone is smooth and suckable so it's ideal for babies with new teeth coming through. It's tough and durable so little ones can nibble and chew and it won't break or tear! It flexes and bends so it's easy for baby to handle and the silicone handles are great for grabbing and grasping!

Our silicone baby spoon and fork set is personalised for your little one with your choice of lettering! You can also pick from a selection of 3 different fonts to really make it unique! It's extra specially personal, hard to lose and also makes a great gift for a 6 month old or even a gift for a new baby!

Being BPA and phthalate free, silicone is free from nasty chemicals. It's recyclable - simply return to us for specialist recycling. Our packaging is also eco friendly, recyclable and minimal.
Shipping & Delivery

Free shipping with Royal Mail 48 for all orders over £15. For orders under £15 a shipping charge of £1.50 - £3.49 will apply.

European and worldwide shipping cost is calculated at checkout. Customs charges may be incurred – these are the responsibility of the customer.

Processing and marking time – 5-7 working days.
Shipping times may vary but are estimated to be:
1-3 working days within the UK.
3-5 working days from Europe.
5-7 working days worldwide.
Returns and Refunds

For personalised products - personalisation errors caused by us

We really hope that you don't find any faults or mistakes in the personalisation. We're only human though, and occasionally we make mistakes! If you do find that we've made an error and the personalisation is not how you ordered it, we ask you to take a photo of the item together with the order number. With this information we can take a look and if we have made a mistake we'll hold our hands up and send you a replacement, correctly marked as you originally ordered it.

Personalised products - personalisation mistakes caused by you

If you realise that you've made a mistake with the personalisation after you've sent in your order, it's definitely worth contacting us as soon as you can with the order number. In such a case, if the item hasn't yet been marked we may be able to rectify your mistake, however we cannot offer refunds once marking has taken place or if you receive your item and only then notice your error.

Always double and triple check your personalisation before you submit your order to us to try and avoid this type of problem. It's so easy to type something in wrongly, and it only takes a minute just to check things over and make sure you've got it right, Saves us a lot of trouble too.

For products without personalisation

If you notice a manufacturing fault in one of our non-personalised products, please photograph the item with its order number, and send back to us in its original packaging. We can then have a look at what's wrong and issue you with a refund if we agree that there's a fault. We're sorry but, in any case, we cannot refund postage - but we'll do our very best to ensure that you are happy with your purchase!
Lovely item and service ⭐️⭐️⭐️⭐️⭐️
Watch our laser marking process
I Have Questions
Why is there no knife with this cutlery?

Hang on there! Tiny tots usually take longer to develop knife skills - a knife and fork might take up to 6-7 years of age to master. We're not aiming for that at this stage - our set is just for beginners to cutlery!

How do I wash the cutlery?

Easily! You can wash it in a dishwasher, by hand or pop it into your steriliser and it'll come up super clean every time!
How many characters can I have for the personalisation?

You can have up to 16 characters to personalise the cutlery just as you want it!
Do the colours of the cutlery match any of the other products?

Yes! Our Silicone Drinking Cups and bibs are available in matching colours, so you can make your own sets
Is the cutlery safe for my child to suck on?

Our silicone cutlery, as with all of our silicone products, is made with BPA and toxin free silicone. This makes it an ideal material for kids' cutlery - it's very safe and free from nasty chemicals.

Always supervise your child with this or any other cutlery!